Electric Luffing Cranes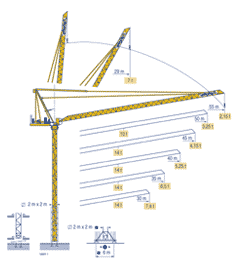 The electric luffing crane can address the lifting challenges typically experienced in construction sites that are crowded, with numerous cranes in the area or have a lack of available space.
Our range of electric cranes with luffing jibs provides hook heights of at least 100 m. These cranes can be used to:
Avoid static or mobile obstacles
Navigate problems of overflying between cranes in out-of-service position
The bases of these cranes can be modulated with all our models for all types of installation. Furthermore, each crane has an Automatic Safety Management System providing maximum driving comfort.
The quiet emission free electric operation is ideally designed and suited to reduce the disruption and stress imposed on the local residential environment surrounding the construction sites.
As compared to diesel-powered luffing cranes, our electric models are cheaper to run. This offers an additional advantage to construction companies.