When your project is residential or commercial, crane hire services are essential to its success. Cranes can serve multiple uses — in particular, the handling of heavy construction material and equipment. Cranes provide a mechanical advantage for projects requiring the movement, transport, and hauling of large, heavy loads.
Choosing the right crane
Originally introduced by the ancient Greeks, cranes have become essential tools in construction and any industry requiring transportation of loads. Today's cranes have come a long way since their original invention.
Today, construction cranes are mechanical titans, often used to service high-end, multi-story infrastructure projects. Some tower cranes are capable of reaching as high as 800 meters. The range of options available today is numerous and nearly limitless.
When it comes to your construction requirements, choosing the right crane is important. Choosing the right crane to suit your requirements will have an impact on timeframe, efficiency, safety, and cost.
No matter your construction needs, the four factors that need to be considered include:
Reach

Terrain

Load capacity

Cost
These four factors will determine the type of crane your project requires. You'll want a crane that can move and operate efficiently throughout your construction site. It should be one that can handle your loads easily, and will not negatively impact your project's budget.
Addressing these four factors before renting a crane can help you decide which crane is right for your project's requirements. As cranes exist in different forms and for a variety of specialized use, you'll want to take considerable time deciding on the right crane for your project.
If you've fully considered all four factors, below is a list of the most common type of cranes you could hire for your project.
Tower Cranes
Perhaps the most common type of crane, the tower crane is a typical fixture in many construction sites. As these cranes can rise hundreds of feet in the air, they are pretty hard to miss. The main purpose of a tower crane is to lift heavy construction equipment like generators and acetylene torches, and building materials like steel and concrete.
Initially developed in Europe, tower cranes are now employed globally for projects of tall buildings. Unlike mobile or aerial cranes, tower cranes are fixed construction cranes. They are anchor bolted to a strong concrete pad for the duration of the project so they can safely and securely manage heavy loads.
All Terrain Cranes
A more versatile alternative to tower cranes, all terrain cranes are suited for job sites with various types of terrain and under different weather conditions. All terrain cranes offer superior terrain flexibility, from off-road and rough terrain to confined job sites.
An all terrain crane offers mobility, maneuverability, and adjustability. Built with a compact design, all terrain cranes are capable of lifting capacities up to 1,000 tons and heights of 500 feet.
Common applications of such cranes are remote construction sites requiring agility and flexibility due to limited or no road access. This includes projects such as erecting wind turbines and the installation of oil and gas pipelines.
Mobile Cranes
The most versatile of crane types, mobile cranes are designed to operate with minimal setup. As a vehicle-mounted solution, they are also able to effectively get to the job site and manage a variety of specific site issues and terrain.
As a portable crane solution, mobile cranes are most effective when your project requires a crane for different locations. Ideally, mobile cranes would be employed for working on highway towers, building maintenance across multiple sites, and laying of pipelines.
There are a variety of mobiles cranes, including (but not limited to) crawler cranes, hydraulic cranes, and carry deck cranes.
Overhead Cranes
Also known as a suspended crane, an overhead crane is secured in place with beams to carry heavy loads over a short, unidirectional distance. Often used on sites where space is tight, overhead cranes have a high lifting capacity to support heavy load movement.
Another crane, the gantry crane, operates in a similar fashion. Both are commonly used in an assembly, storage, warehousing, shipyard, or transportation capacity.
Self-Erecting Cranes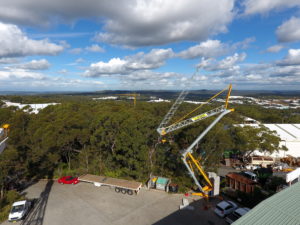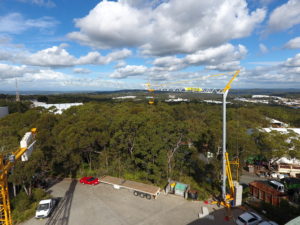 Perfectly suited for construction sites that require frequent and infrequent operations, self-erecting cranes are remote controlled solutions for construction projects with a short timeframe. Self-erecting cranes have been designed to be simple to use and easy to install. The erection of a self-erecting crane could be completed in less than one day.
Ideally, a self-erecting crane would be used for building private houses and small to medium size residential buildings, with none exceeding 6 stories. A self-erecting crane is one of the best cranes to hire for a residential project as it operates entirely autonomously, quietly, and emission-free, reducing disruption and stress to the local residential environment.
Self-erecting cranes are popular and Active Crane Hire offers a variety of models to provide  maximum flexibility for our clients. In the photos, we have the Potain IGO22.  
Not sure which crane is right for you?
Here at Active Crane Hire, our range of cranes fits all of your specific application needs. Our cranes have a reputation for being easy to use and quick to install. Our crane hire services extend to more than just cranes; we also provide a range of services from operation and transportation to maintenance, to ensure you have peace of mind that your crane operating needs are met.
We welcome the opportunity to work with you and address your crane operating needs. If you would like to know more about our range of crane hires, or want to get a free, no obligation quote, contact us to speak with one of our expert Crane Specialists.