New Crane Sales
Remote Controlled Potain City Cranes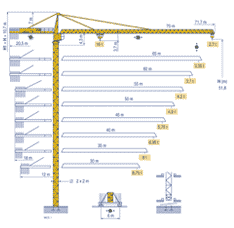 Our Top slewing cranes have a reputation for being easy to adapt to a working environment: sites which are high up, crowded or widely spread.
Operational within a single day, telescopic and modular. City Cranes are suitable for projects in urban areas. For maximum efficiency in minimum space, the City Cranes provide all the advantages of power, safety and ergonomics.
The City Crane range is the right crane concept for multi-story apartment dwellings and commercial projects.
The quiet emission free electric operation is ideal designed and suited to reduce the disruption and stress imposed on the local residential environment, which may surround the construction sites.
Watch as we install a Tower Crane on a major development site.