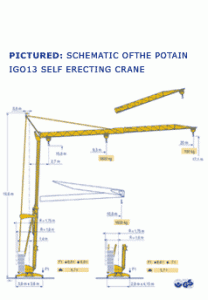 Remote Controlled Potain Self-Erecting Cranes
Simple, rapid and entirely autonomous, Self-Erecting Tower Cranes for sale in Australia are especially suited to construction sites that are of a short duration and require frequent to infrequent operations.
Our Self-Erecting Cranes are simple to use, with rapid installation and commissioning completed in less than one day. These cranes are the answer to the expectations of companies building private houses and small- to medium-sized residential buildings up to 6 stories high.
The quiet, emission-free electric operation is designed and suited to reduce the disruption and stress imposed on the local residential environment, which may surround a construction site.
Choose a model in our list for more information on remote controlled cranes, potain cranes for sale and more. Click on the links below to download the specification sheet.
Potain HD 16 C
Potain HD 40 A
Potain IGO 13
Potain IGO 24
Potain IGO 32
Potain IGO 36
Potain IGO 50
Potain MC 50B
Potain MC 58
Potain MCT 68
Potain MC 85B
Potain MCT 88
Potain MC 175
Potain MCT 205
Potain CTT 91
Potain MDT 98
Potain MCT 85 F5
Potain CCT 141
Potain MCT 385
Potain MC 310 K12