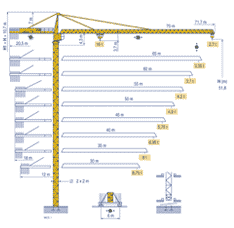 Active Crane Hire's top-slewing crane selection provides advanced crane solutions for all your vertical lifting application needs. Our wide range of slewing cranes are easily adaptable to any type of working environment, from urban sites with minimum interferences to widely spread sites that require high load capacities.
Our top-slewing cranes for hire come with a modular design, delivering progressive solutions, component compatibility, crane remote controlled availability, and optimised performance. Whether you require standard tower crane installation or bespoke solutions, we offer rapid deployment for enhanced efficiency. This ensures our customers can maximise their productivity from their investment without compromising safety, performance, or ergonomics.
The Potain top-slewing cranes we have available have a reputation for high handling capacities and exceptional drivetrain value. This allows our slewing and remote control tower cranes to provide greater performance. To keep in step with demanding industry requirements, the Potain top-slewing cranes use two technologies to ensure optimal lifting performance:
The horizontal displacement of the trolley
Movement by raising the jib
Able to be operational within a single day, our user-friendly crane systems are suitable for projects in urban areas. From the Potain MC 50B to Potain MC 175, and everything in between, our slewing tower crane range is the right crane concept for multi-story apartment dwellings and commercial projects. Each crane offers quiet, emission-free electric operation, making it ideally designed to reduce the stress imposed by any local resident environment that may surround the construction site.
Potain top-slewing cranes lead the world in best-in-class technologies and are the preferred choice for construction and assembly works with cramped and space-limited areas.
Key parameters and technical characteristics of our range of top-slewing cranes include:
Max lifting capacity up to 20,000 kg
A max jib radius up to 75 m
Max freestanding height of 64.9 m with additional freestanding options available
Different mounting configurations available
Multiple control configurations
Economical for transport
Lower power consumption
Some of our top selling slewing cranes for crane hire include the following:
Potain MCT 58
Designed for working in restricted places, the MC 58 has a low-profile design and minimum components to easily adjust to any specific requirements.
The MC 58 is also engineered for short- and long-term reliable performance, featuring a max. jib radius of 42 m, a max. lifting capacity of 2,500 kg, and a max. tip capacity of 1,200 kg. Like the rest of the MCT range, the MC 58 has variable frequency mechanisms to allow for simple and quick crane erection and adapt to the crane operator's driving style.
Potain MDT 98
As part of the MDT City Tower Crane series, the MDT 98 is ideal for customers seeking outstanding lift performance, time-saving setup, and ultimate operator control. Each model in this range has optimised ergonomic control and premium cab view for ultra visibility and comfort.
The MDT 98 comes with a 54.9 m jib radius and a 6,600 kg lift capacity, bringing versatility and functionality to any job site.
Potain MCT 175
Designed to optimise the productivity on the site during operation, the MCT 175 crane can meet any requirement of the market. An efficient crane capable of lifting a wide range of construction materials such as structural components, formwork, and scaffolding, the MCT 175 has a max. jib length of 60 m and an impressive load capacity of 10,000 kg.
Perfectly adapted to any heavy-duty job site, the MCT 175 has all the hallmarks of a Potain crane, including easy transport, streamlined assembly and disassembly, highest levels of ergonomics and comfort, impressive safety ratings, and standardised components for easy maintenance.
To read more about our full range of top-slewing cranes and download model specification sheets, click here.
Active Crane Hire holds the highest safety and compliance standards in the industry. As your crane hire provider, we offer our customers complete sales and engineering support, from initial consultation and site planning to installation and maintenance or servicing.
Contact Active Crane Hire today and experience an effortless crane hire.
Watch as we install a Tower Crane on a major development site.