MCH 125 Topless Electro Hydraulic Luffing Cranes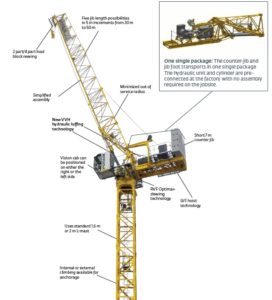 The MCH 125 is the first topless luffing jib model from Potain and with its unique hydraulic technology it is the next generation of Electric Luffing Cranes.
With no cathead to assemble at ground level before installation, the topless design means less space is needed on site.
The speed of assembly and disassembly makes it a perfect solution for congested sites like urban projects, commercial centres, railway corridors and any project site where space is limited. Assembly to a height of 40 metres can be achieved in less than six hours.
The quiet emission free electric operation is ideally designed and suited to reduce the disruption and stress imposed on the local residential environment which may surround the construction sites.
The MCH 125 is also faster to operate compared to conventional luffing cranes with their wire ropes. This alone makes it a perfect choice for a crane hire.
Please contact us for chat about the benefits of this crane hire for your project.